WISE, WILD, & WORTHY
A woman's journey to honoring and embodying her sacred feminine power...
INTENSIVe-cycle I: INITIATION
JULY 2020 (exact days coming soon)
Women are the keepers of the wisdom of Creation. Our body is the soil for new seeds and the portal through which life enters this world. We are the vessels to heal ourselves, our communities and the world. Our body's cycles are designed to synchronize with the changing of the moon and tides. Connected to the cosmos and the earth, we are powerful beyond measure.
And yet, we can feel so small.
We have forgotten... we have forgotten who we truly are. We have forgotten what we are designed to be. We have forgotten our purpose. We have forgotten why Nature created us.
Do you feel connected to the true essence of who you are? What is your relationship to your body? To your heart? To your womb? Do you trust yourself? How do you relate to your own sense of power? Who do you give your power away to? And why do you give it away? How can you reclaim your power?
Breathe...
When did you forget that you were worthy of the deepest kind of love and belonging? And why did you forget? Do you want to re-member who you truly are?
Join us as we enter into a safe, trusting and nurturing space to heal and transform individual and collective wounds. Together, we invoke a remembrance of the wisdom that is within each of us already.
Through devotional space, sacred intentions, ancient rituals and self-care techniques, we will:
Connect more deeply to our natural cycles, their magic and their power

Journey through practices that invite in vulnerability, speaking, and acknowledging the true Self

Understand, practice and anchor what it means to embody healthy boundaries

Somatically re-program the energy of safety to finally see and release our experiences of trauma, fear and shame

Ground and anchor the self-trust that is needed to open our hearts and spirits to building a stronger relationship with ourselves, others, and with Mother Nature

Cocreate deep connection, authentic power, and an inner listening that will forever shift the trajectory of our lives

Anchor and embody deep worthiness, belonging, and a new way of relating to all that is

Activate and express our wild nature and experience its liberation

Connect authentically, vulnerably and intimately to re-cognize what true sisterhood is
Join Jamie Festa and Deena Dadachanji for this powerful, weekend long journey of unfolding into the beauty and strength that is truly the essence of who you are as a woman.
We will be walking together in support of a deep willingness to listen, awaken, transform, honor and embody the Divine Feminine Power that is our birthright, and will be gently unfolding and clearing out the beliefs and patterns that have been blocking us from blossoming into our full potential.

The time has come to support and guide one another in stepping more fully into who we are. As each of us walks the journey of reclaiming our authentic power and anchoring self-trust, we give others the permission to do the same. Together, we uncover, strengthen and share our gifts, to change our lives and transform our world.
INVOKE YOUR WISDOM, FEEL YOUR WILDNESS, AND KNOW YOUR WORTH!
4 days/4 nights at the beautiful DIMA Mallorca, shared room

Daily movement, meditations, sessions, rituals

Sacred Cacao opening ceremony and journey

Sing, dance, and create

Learn blood wisdom

Deeply held inner work, peeling the layers away of shame, boundaries, belonging….

Making new connections with others and nature, and deepening your connections to self

Large deck overlooking expansive views of nature

Cooking and creating delicious meals together in service of each other

Three healthy and delicious meals a day (D on arrival day, and B on departure day)

General Schedule
Night of Arrival: Cacao Ceremony
8:00 – 9:00 Morning Meditation/Movement
9:00 -10:30 Breakfast & Shower
10:30 – 14:00 Check in/Morning Sessions
14:00 – 15:00 Lunch
15:00 – 16:00 Leisure time or Service (Seva)
16:00- 19:00 Two Deep-Dive Sessions
19:00 – 20:00 Dinner
*Sessions include lecture, inquiry, and experiential aspects that are intentionally undisclosed
Learn Feminine Self Care Practices

Connecting with Nature: day at the beach and hiking

Group Sessions and Rituals

Wifi Access: YET THE INVITATION IS TO DISCONNECT TO RECONNECT

Full love and support in the process of feeling, accepting, and allowing all of you

Tears and tons of joy and laughter

And lot's more

Accommodation & Rates
DIMA is a place that wishes to offer people a different kind of experience to mainstream societies daily life. A place where you can find a sense of community and a sense of yourself by consciously building a relationship with nature and the environment you are in. Dima is a conscious living experience. For DIMA, living consciously means to be aware of our own existence, paying attention to our sensations, thoughts, feelings, surroundings, actions and their consequences.
DIMA has found a home in a majestic 300 year-old traditional Mallorcan Finca. It is located in the heart of the Island, towering on an idyllic hillside, surrounded by forest and agricultural land overlooking a valley. The building is manor to 40 hectares of land growing olives, lemons, oranges, pomegranate and figs, to name a few.
You are hereby invited to come and experience this adventure with us.
Check out DIMA
Investment:
ALL INCLUSIVE of Full Retreat Program + ALL meals + 4 Days & 4 Nights in a stunning Finca devoted exclusively to our magical Journey!
INVESTMENT FOR ONE:
Book by june 25th for 850 Euros
BRING A SISTER SPECIAL!!!
we have special rates For 2 or more women coming together… Get in touch for a group rate!
WHAT'S INCLUDED
4 Days & 4 Nights in a private Spanish Finca
Women's-only ceremonial space
Food and Drink (not including alchoholic beverages)
Sessions, Support, and Deep Transformation!
Excursions in Nature
PAYMENT OPTIONS
Note: Payment plans and options available for those requiring support - please contact us to have a chat and find an option that is supportive for your journey! ✨
WhatsApp us: +34640124362
Email us at: wisewildandworthy@gmail.com
Preparing for your Retreat
Let's Connect and get to know each other, first and foremost. This is what life is all about. So, email or WhatsApp us, touch base, and we can have a quick check to see where you are in your life and practice and what your needs and concerns might be.
About Our Facilitators
Jamie Festa & Deena Dadachanji bring over two decades of experience in the path of spiritual and psychological transformation! This is the third retreat they have offered through Wise, Wild & Worthy, whose courses, workshops and retreats are an integral part of the We Rise Together Platform.
Learn more about Jamie & Deena here!
CANCELLATION POLICY
Cancellation, with full refund (not including deposit), will be available up until three weeks before the retreat begins. This allows us the time to refill your spot. Please contact us as soon as you are able to if something comes up.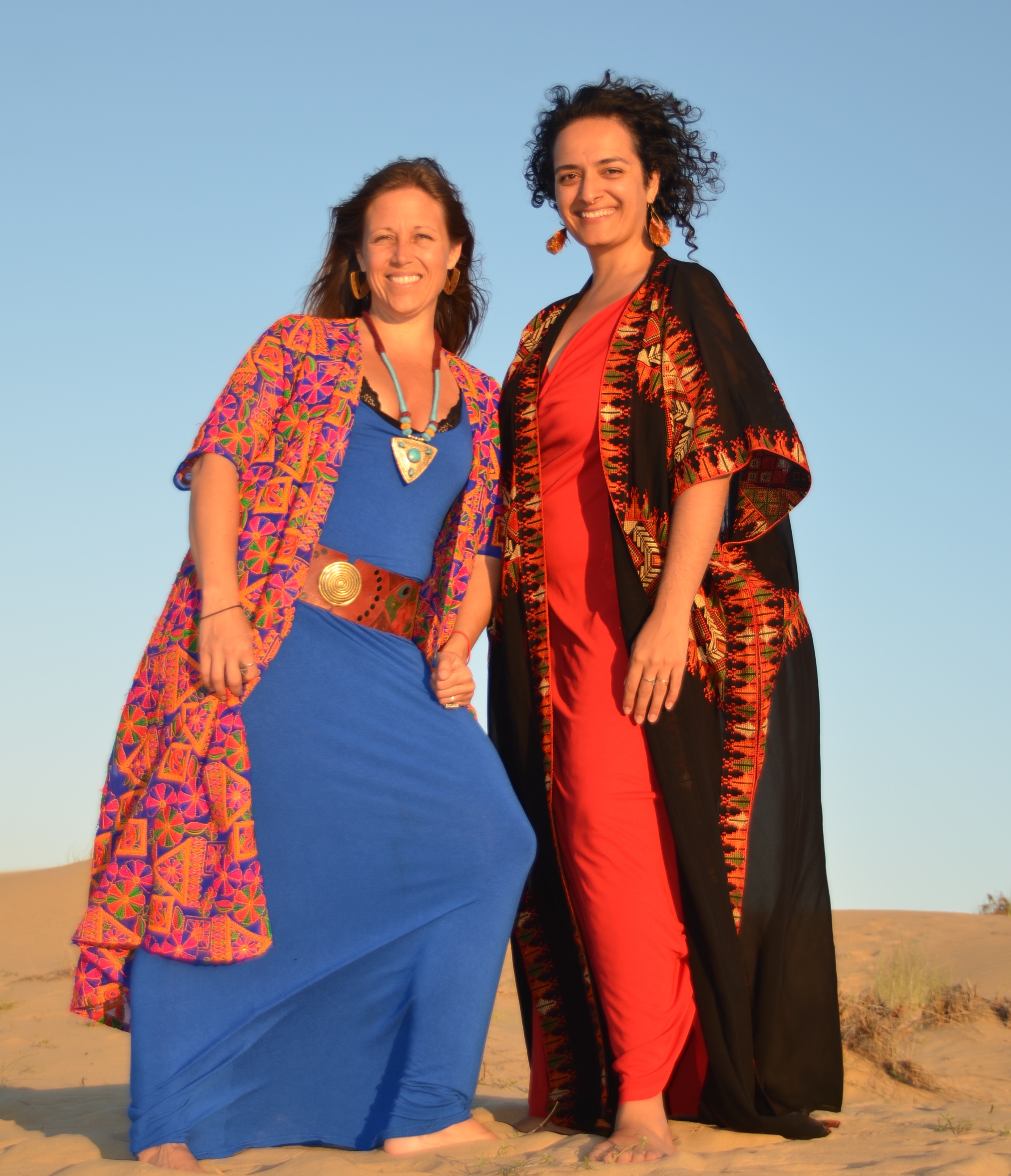 Jamie Festa & Deena Dadachanji